Federal health officials are recalling packages of ground beef produced by food giant Cargill due to concerns about E. coli.
The Canadian Food Inspection Agency said Today there have been 86 reported illnesses related to the recalled products, and advised people to throw out or return packages to the store where they were bought.
The meat carries the Your Fresh Market brand name and was sold at Walmart stores in Alberta, Ontario, Quebec, New Brunswick, Nova Scotia, British Columbia, Manitoba and Saskatchewan.
The extra lean ground beef sirloin, extra lean ground beef, medium ground beef and lean ground beef was sold in 475-gram, 900-gram and 1.6-kilogram packages.
Cargill spokeswoman Connie Tamoto said E. coli 0157 was found in a random sample of ground beef that had been packaged at a Calgary case-ready facility on March 31. She did not know which slaughterhouse the beef came from.
Winnipeg-based Cargill Meat Solutions has two processing plants in Canada: one in High River, Alta., and the other in Guelph, Ont.
"Obviously food safety is critical to us," said Tamoto. "We're doing everything we can to work with the CFIA and Health Canada to make sure they have everything they need as they continue to investigate the situation."
She said the recall involves about 14,000 kilograms, or 14 tonnes, of ground beef.
The largest beef recall in Canadian history involved 4,000 tonnes of beef — some 1,800 products — that were pulled from the North American market in 2012. XL Foods Inc. operated the meat-packing plant in Brooks, Alta., that was linked to the E. coli 0157 outbreak. Eighteen people fell ill.
Symptoms can include nausea, vomiting, mild to severe abdominal cramps and watery to bloody diarrhea.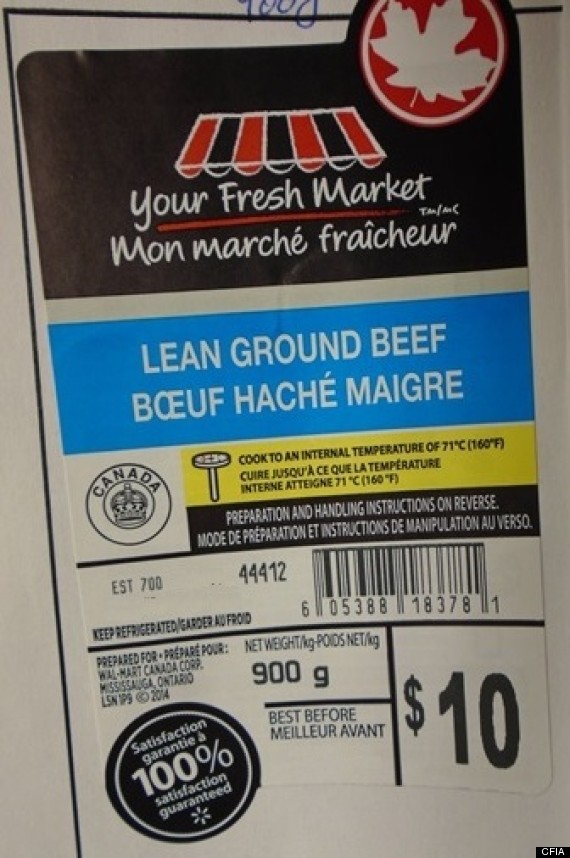 Source: HuffPost Canada